How to Make a Needle Holder
Posted on
How to Make a Needle Holder for Your Felting Needles.
You will need: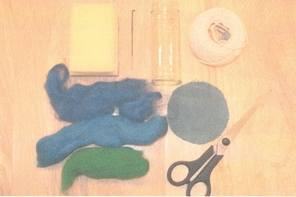 an empty spice jar, washed, with label and lid removed
a piece of loose woven fabric such as linen or cotton, test to see if a felting needle will go through fairly easily
a piece of string approx 12" in length
approx 5g of wool roving - any colour you like
a washing up sponge (scourer removed) or similar sponge
You will also need scissors, a cup of warm water, soap, a small towel and a piece of see through or thin fabric such as voile/cotton/netting (a piece large enough to cover the whole jar).
Cut a round piece from the loose woven fabric, big enough to cover the top of the jar and be tied on with the string.
Cover a flat surface with the towel, place the jar on its side and cover with small pieces of the wool roving including up to the top (or neck). Cover with the voile (sheer fabric) and wet down with some warm water. Turn the jar slightly and cover the next side with wool making sure it overlaps with the wool now on the jar. Cover with the voile and wet down- make sure all the wool is wet. Turn the jar and repeat until the jar has been covered with wool
Wrap the jar in the voile and hold in your hand and then rub a bar of soap over the voile and jar (or use washing up liquid) then rub up and down all sides of the jar with your free hand for about 30 seconds.
repeat step 2 and 3
Turn jar on to the open end and cover the bottom with wool, this should over lap the sides which already have wool on them. Cover the bottom with the voile, soap the end, and rub for 30 seconds.
repeat step 5
repeat step 2, 3 and 5 using up all the wool you have left
The jar should be covered with the wet semi felted wool. Wrap in the voile, rub on more soap (if needed) and rub all the sides and bottom for about 1 or 2 minutes.
Remove the voile and continue to rub the sides and end with your hands until the wool is firm and stays in place.
Rinse under a cold tap to remove the soap and pat the excess water off onto the towel. Leave to dry over night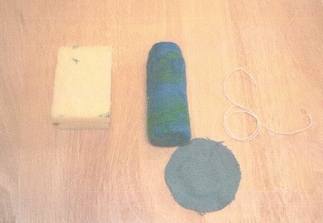 Stuff the sponge in to the jar.
Cover the top of the jar with the fabric, tie your string in a loop, place the loop over the fabric and around the neck of the jar, tighten, loop around neck again and knot off. Cut off any excess.
Push you needles through fabric and into the sponge below. Done!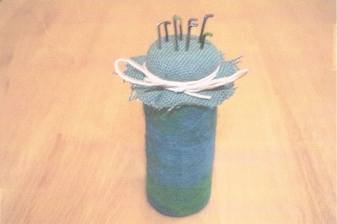 heidifeathers.com